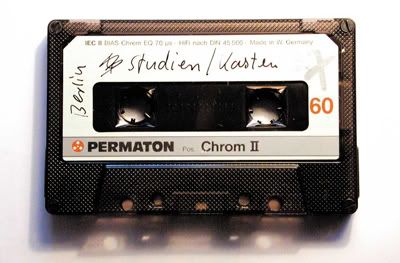 SIDE A:
Wipers - Follow Blind
Titus Andronicus - Titus Andronicus
Buddy Holly - Everyday
Paul Baribeau - Strawberry
The Books - A True Story of a Story of True love
Explosions in the Sky - Your Hand in Mine
Larkin Grimm - Link in Your Chain
Good Luck - Man on Fire
Christie Front Drive - Away
Don Caballero - Delivering Groceries at 138 Beats Per Minute
A Kit Fox - Yr Eyes Keep Getting Bigger
SIDE B:
Joy Division - Digital
Jawbreaker - Accident Prone
1994! - Sexual Alien vs. Sexual Predator
Zero Boys - Civilization's Dying
Fugazi - Waiting Room
Wavves - No Hope Kids
Pajo - Hybrid Moments
Godspeed You! Black Emperor - Rockets Fall on Rocket Falls
Tinyfolk - Space Cat
I'm suprised this one turned out as well as it did. Give it a try. If I'm ever not lazy, I might start zipping the MP3s of these tapes and making them available. But, then again, I am very lazy.
Also, I may or may not have posted some pictures on
my flickr
.
I'm sore and have allergies. Good night.
Max.